Hello, Dark Warriors!
Welcome back to the Dark Warriors News Central. We're going to be recapping everything that's happened throughout this week to reflect as an army. Back in the DW Dragons Age, DWNC used to recap every week to summarize the week for every Dark Warrior. If you are new to the Dark Warriors, welcome! This post will tell YOU how our week went as the Dark Warriors, the best Club Penguin Online Army.
Now without further ado, let's get right onto the recap.
___________________________________________________________________________________________
THE DEATH STAR IS REBUILT!
Our super weapon – the Death Star – has finally been rebuilt after It's last destruction from the shutdown of the original Club Penguin (Disney). Our Warriors put in hard work and dedication building it from scratch ever since the return of the Dark Warriors. With this super weapon being apart of the UCDWN, we are able to destroy whole servers, whole empires, whole lands with it. I would say it makes sense, considering the Dark Warriors are a World Power status army. Every other army will take note of the new Death Star.
What does it look like inside the Death Star, you say? I'll show you around.
Finally, we have.. the Throne Room. Built yet again!
Darth Vader is very pleased with DW's new Death Star. For those who don't know, he is the official mascot for DW. He encourages new recruits to join the Dark Side, and use the powers of the Force one can only imagine only in Dark Warriors. DW will continue to develop more super powered weapons, currently our new project are Star Destroyers. It's ETA will probably be next week, so stay tuned.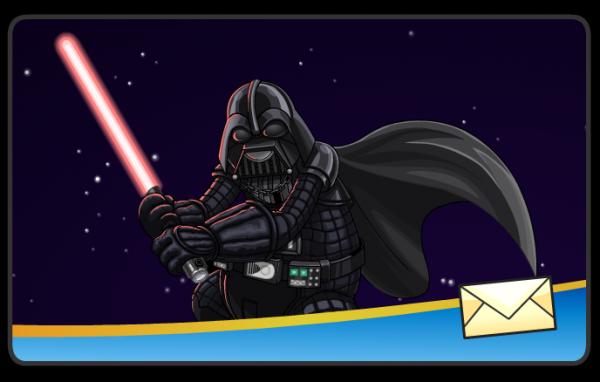 ___________________________________________________________________________________________
THE DARK WARRIORS HAVE RETURNED!
Fairly obvious news by now, but the Dark Warriors are back and better than ever, and I'm grateful as well as the DW Legends. When the original Club Penguin (Disney) was active, Club Penguin Armies used to operate in xat, an online chatroom powered by flash. This very WordPress site was used to schedule events, and to keep track of who was attending, you were required to comment.
Now, in this new generation of Club Penguin Armies, we have Club Penguin Online, a private server in which limitations are removed and the freedom of Old Club Penguin has been brought back. To add onto that, armies have Club Penguin Online support, which benefits both Club Penguin Online and the Club Penguin Army Community. In this new generation of CP Armies, our new base of operations are hosted in Discord instead of xat. Events are scheduled in Discord as well, which is a better platform overall in terms of usage and management for communities all over the world aside from Club Penguin Armies.
To add onto this, three DW Legends have returned to the army – Freezie66, Spi101, and xiunknown. If you visit DW's official Hall of Fame page, you can read about their contributions to DW.
"Today the army made the return to the Club Penguin world after 4-5 years. Many DW legends such as myself, Spi101, Andrew24 Pufpuf103 turned up to lead the event alongside Twaseen due to xiunknown being able to attend. It was a great success" –Freezie66, Dark Warriors' 2019 Return Event
The Dark Warriors had their official return event back in December 21st, 2019, averaging 35 troops overall. We've grown very much since then.
Finally, the pages in the Dark Warriors website are updated. I HIGHLY recommend you guys check out our new Nations page. The Dark Warriors flag has been recovered, the Government has been rewritten, and a Council has been introduced.
___________________________________________________________________________________________
ASK FREEZIE66!
Every week we'll be asking a person for questions about themselves, or just about Dark Warriors in general. If you've got any questions for him, reach out to him in DW's official Discord server. There are many questions you can ask, ranging from his experience in Club Penguin Armies, to what kind of food he eats and how often does he sleep.
___________________________________________________________________________________________
T

H

E C

H

R

I

S

T

M

A

S C

H

A

O

S F

I

N

A

L

S

!
The biggest piece of news this week without a doubt is the Christmas Chaos Finals. This is one of the most historic events in Dark Warriors history. Let me tell you a bit of history before I continue: at this point in time- December 2013 – the Dark Warriors were just the second biggest army competing against the then RPF who've had a golden age. We were the underdogs, facing them in the finals.
Unfortunately, the Dark Warriors had lost due to many circumstances. The loss had taken a toll into the leadership, and many changes were made since then. Fast forward to now – It was very much a similar feeling. Two of the biggest armies, clashing together in a tournament, only this time the Dark Warriors within one week of returning – unbelievably ties with the Doritos, who've had whole months to build their army. That is incredible, and I will repeat this – I am proud of every single Dark Warrior present. Promotions & giveaways were given as well to everyone who made the event, some receiving Classic Nitro & Nitro.
The Dark Warriors will be undergoing their second week upcoming from their return. We maxed 70-75 Dark Warriors, lockouts included.
___________________________________________________________________________________________
I hope all of you enjoyed this week's recap for the Dark Warriors News Central. This week was very eventful, and now It's time to focus on our second week back. I hope to see all of you here again to recap with me, and as always, WE BURN THE LIGHT.
– ๖̶̶̶§pi101 // Dark Warriors Leader
Filed under: club penguin dark warriors, cp dark warriors, CP Dark Warriors, Dark Warriors Club Penguin, dark warriors cp, dark warriors cpo, Dark Warriors News Central |